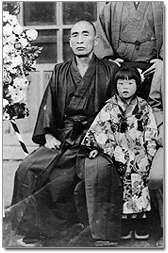 Pictures: provided by
Mr. Teruaki Sakamoto
Kanekichi was born in Tabuse, Kasumibaura-machi and he was the grandfather of national singer Kyu Sakamoto. In 1902, he migrated to Ashizaki, Hamaguchi-mura, Yamamoto-gun (present Ashizaki, Hachiryu-machi) with his family and introduced hobikisen to this area from around 1902 to 1905. He was also involved in the processing and sale of shrimps with his local partner, Kurakichi Ito, and had some relationships with wholesale merchants in Akita , Yamagata , Tokyo and Ibaraki .