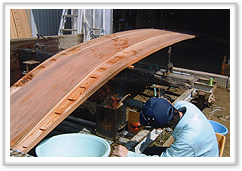 Burning and bending of bottom boards.
■

To make a boat, boards should be bent. They are burned and bent with heat. Some boards are bent well and others are not depending on the quality of wood. If they are too less bent, it is hard to nail them, but too much bending is not good, either. The restoration force of wood should be factored in for bending.
For a bottom panel, three boards are nailed together before burning and bending.
Boards should be scorched while sousing water to them to prevent them from burning.